Talking Gebser, Bildung, and Staying with the Trouble
Rune Soup podcast appearance, interview with Tomas Björkman and new Mutations design reveal.
Last week, Gordon White cordially invited me onto Rune Soup podcast to talk about Jean Gebser. I was joined by two of my brilliant friends and colleagues, Barbara Karlsen and Brandt Stickley — guest teachers in the upcoming online class — who brought in Gebserian theory and practice from the perspectives of each of their healing modalities (somatic and Chinese Medicine, respectively).
My thanks to Gordon for the invitation to talk Gebser in our time. I was heartened to find the Rune Soup community so receptive to Gebser's philosophy and the "integral milieu" (Sri Aurobindo, Mirra Alfassa, Integral Yoga, etc.) more generally.
We orbited this inquiry: if integral-aperspectival consciousness is an intensification of presence, an "opening of time," how do we better embody this consciousness to navigate planetary collapse? How does Gebser help us "stay with the trouble?"
It sounds like this could be the start of many more conversations reflecting on integral ontology, temporics, and planetization.
Talking Bildung with Author Tomas Björkman
In this latest episode, Matt, Ryan and I spoke with Tomas Björkman, author of The World We Create and co-author of The Nordic Secret. Tomas shares the history of the "Bildung" concept, tracing it from German Romanticism to its historical adoption in Nordic countries. Bildung "retreat" centers, often subsidized for students and sometimes even supported by unions, were educational and developmental spaces whose principle philosophy was that individual development and societal health went hand-in-hand. Bildung may not be a blueprint for a "deliberately developmental society," but it is a case study for the future.
Mutations - New Show Design
I'm grateful to finally showcase the first official Mutations logo by artist J. Andrew World, who I reached out to after seeing his brilliant work with Ben Burgis for Give Them an Argument show and the cover art for Agains the Web (see his Twitter here, Patreon here). We started with a few comic book themes — you know, mutants and all — and eventually landed on the midcentury muse of Arts & Architecture magazine.
There's a lot to love about this magazine's design work; it manifests a kind of creative midcentury futurism that now, unfortunately, lives on only through its aesthetics. There's something about their use of lines, webs, overlapping and interrelating shapes that denote complexity and planetary thinking. It also reminds me of the countercultural projects of the 1970s: from the Lindisfarne Association to Findhorn to Whole Earth Catalogue.
I attempted to define-by-association how the new design expresses the integral-aperspectival themes of Mutations/my work, generally:
Associative words: Deleuzean folds, superfolds, rhizomes, Chthulucene, Hyperobjects, tentacular, entanglement.

Reversals: Dark Ecology, weird ecology, Weird Thoreau.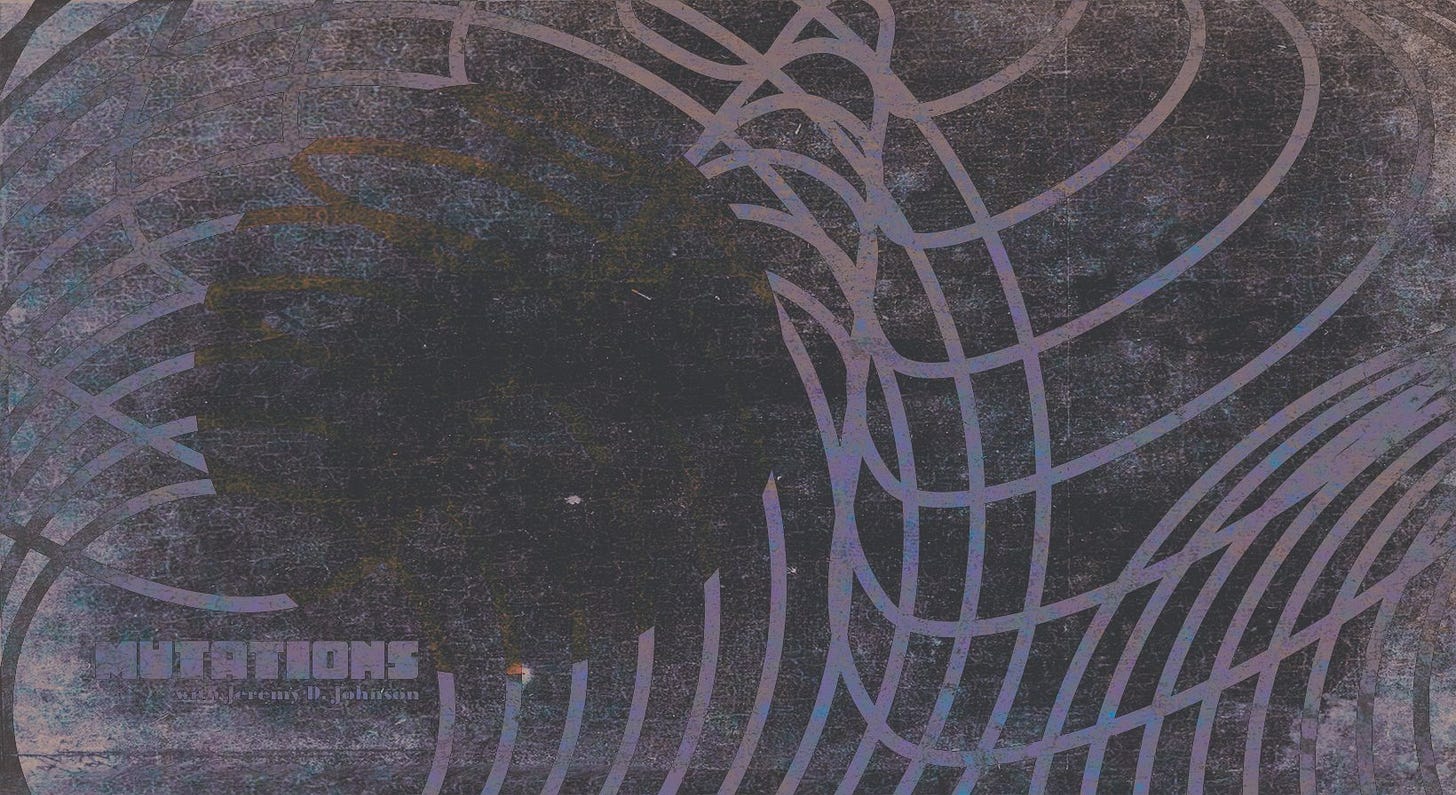 J. Andrew joked about this one being the "Nine Inch Nails" version. I agreed, but we both really liked it. So it will make occasional appearances in the promo.
Patreon
First of all, please consider supporting my book writing and publishing projects on Patreon. Your support is immensely helpful.

The next Pop-Up Integral Studies Salon call is on September 30th.

Firmed up dates for Mutations podcast streams with guests will be announced next newsletter. These will be episodes you can register for on Zoom and attend live to participate in the Q&A.
Support and Community
Join the Mutations Facebook Group, connect with me on Twitter, or join us on Discord.
Yours,
Jeremy